Tri-Valley Boot Camp Members Transformed Their Bodies in Only 6 Weeks!

If you live in the Tri-Valley, you need to know about the "secret weapon" at your disposal that will help you get into the best shape of your entire life.
Hi, I'm Mark Rogers, and as the owner of Mark Rogers Fitness, I have personally helped hundreds of clients transform themselves in record time with
personal training in the Tri-Valley
, so we started up the the exclusive
Blazin' Bodies Boot Camp
.
Why are so many people in the Tri-Valley relying on my boot camps? The simple answer is because they work.
It's not about how much money you spend or having the latest fad diet and exercise equipment. It's about doing something that is effective in
removing unwanted pounds
and revealing a new you in
days
, not months.
No matter what shape you are in now, or how frustrated you have been in the past by doing programs that didn't work, bootcamp training will
change your life
because of the way it pushes your limits with a combination of non-stop cardio, weight, and core training.
But Blazin' Bodies Boot Camp is not the same as other bootcamps. As you probably already know, it takes a
combination
of exercise and nutrition to truly get into your best shape. That's why I focus on designing a
customized nutrition plan
that is
only for you
.
What else separates the Blazin Bodies Boot Camp from
every
other Tri-Valley boot camp? My
personal guarantee
.
After going through my boot camp training, if you ever regain any weight, you can come back and train with me for
free
. That is just one example of how confident that I am in the program, and I base that confidence on the successes of the countless clients that I have already helped: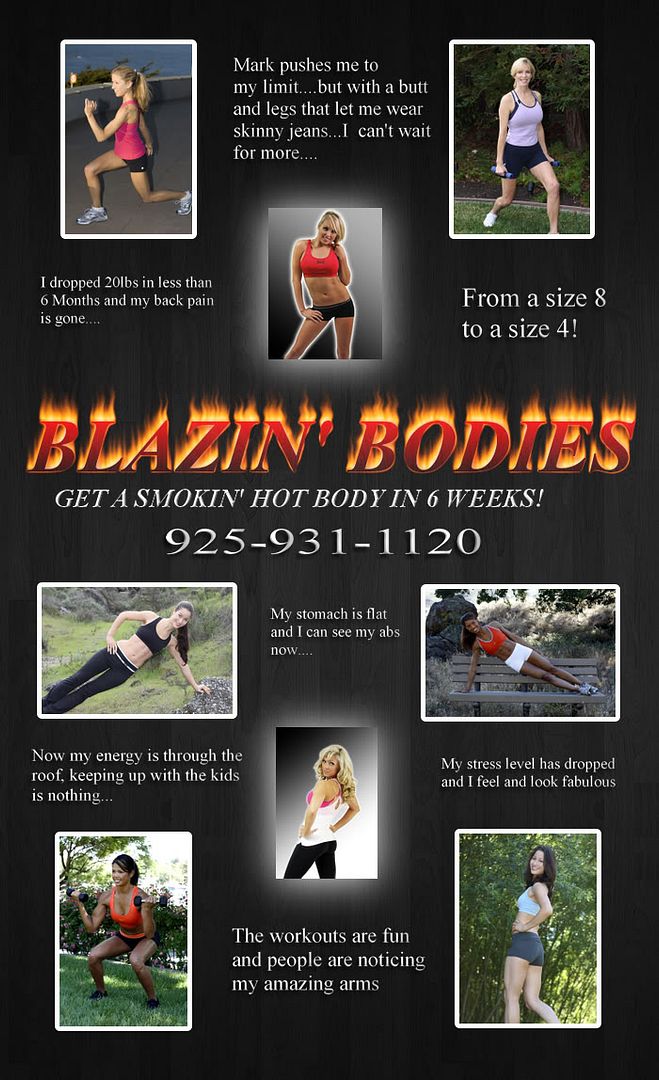 The Blazin Bodies Boot Camp is
fast
and fits into
any busy lifestyle
, it's
fun
, and most importantly, it
will
work for you. I'll even buy you a
free pair
of your favorite designer skinny jeans after you complete the program.
Getting in shape is a
lifetime
thing, which is why I am dedicated to helping people stay at their ideal weight for the rest of their lives. There is nothing that compares to the motivation you get from working out in my bootcamp and you will notice how much better you feel
each and every day
as a result.
Also feel free to check out my personal training in the Tri-Valley.
Everyone knows the beautiful weather is the biggest attraction in the Tri-Valley, now the Blazin Bodies Boot Camp is quickly becoming the
second biggest attraction
in the area. If you are ready to meet the new you and become toned and sculpted, while having more energy, please feel free to contact me as soon as possible. The high demand for the program is making reservations limited, so if you are serious, now is the time.
If you would like more information or details about the exclusive Blazin Bodies Boot Camp, please click here:
(
Blazin' Bodies Boot Camp
)
The Blazin Bodies Boot Camp, serving the Tri-Valley, Including 94566, 94588, 94568, 94582, 94583, 94550, 94551, 94506, 94526, 94507, 94546, 94552, 94541, 94542
________________________________________________________________________
Mark Rogers Fitness is proud to offer its exclusive boot camps all across the Tri-Valley and Northern California. Just click on your area for more information.